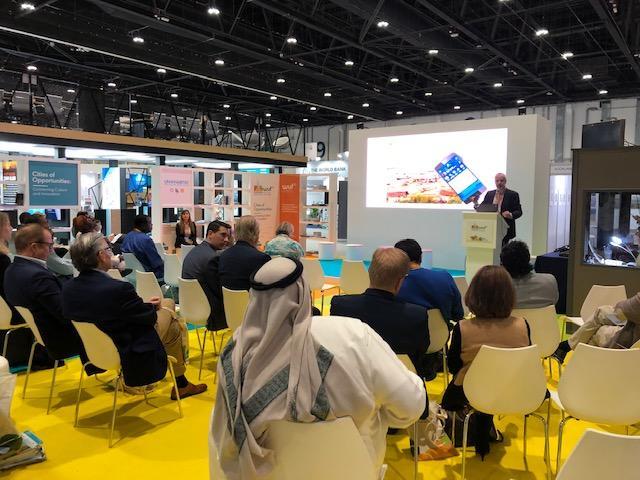 Library
"To meet the challenges posed by the scale and scope of urbanization in the context of global uncertainty, disruptive and destructive change, requires a true sense of urgency." H.E. Mohammad Ashraf Ghani, President of Afghanistan
From February 8-13, I attended UN-Habitat's World Urban Forum 10 in Ahu Dhabi. President Ashraf Ghani of Afghanistan and H.E. Josaia V. Bainimarama, Prime Minister of the Republic of Fifi were the speakers representing the world's governments at the opening ceremony. One from a country that continues to suffer from forty years of futile wars brought on by the sociopathic men who we continue to mislabel leaders, and one from a country that will quite literally disappear because of our inability to take care of mother earth.
I was there for the debut of FIABCI's The City We Need is Affordable Vol. IV at the Library in the Urban Village created in the Exhibition Hall as an example of an inclusive city. This was my second time participating in the Forum focused on changing the trajectory of our future from one based on greed, anger and ignorance; to one focused on culture, innovation and compassion. Once again it was the women who were clear-headed and filled with practical ideas of how to reverse the damage done by profit-seeking above all else.
The UN has declared this a Decade of Action toward the Sustainable Development Goals and Mother Nature has now made sure we all realize this is about us and the urgent actions we take today, but more importantly the community building actions we take tomorrow when the world opens back up. The theme of the fourth volume of The City We Need is Affordable is "housing is a human right." One case in the book is about Finland's Housing First model which says that homeless people must be provided housing first, rather that after they have cleaned up their lives and become respectable as is the requirement in most places. Another is how modular homes donated by the people of Hawaii to the victims of the Tohoku earthquake in Japan were disassembled and shipped back to Honolulu to house the homeless.
While it may be easy to succumb to the sensationalism our feckless media continues to spew, we have had the ability to build community and take care of our neighbor all along. We are the ones who have given up control based on the false notion that the stock market is an indicator of prosperity and someone else will do the hard work of rooting out evil. After we emerge from this period of incubation, we either band together and build a new affordable, inclusive, safe and resilient world or we leave our future to the same vultures who created and sold the poison of every man for himself.